Direct Link to 2002 Update Page
Direct Link to 2004 Update Page
TED CAMPBELL's 743 RESTORATION PROJECT
The Beginning

Several years ago,Ted Campbell, owner of Coach Maintenance, Inc., in Williams, CA, purchased this coach from Pacific Bus Museum member Alex Locke, and undertook the restoration of this unique ex-Greyhound model 743 coach. (Only two 743's were built to these specifications, and this is one.) This project is still underway, but enough progress has been made, so that it can be shown in photos.
This coach had several owners, starting with Greyhound, as well as California Parlor Car Tours, Batco, and Eastshore Lines. Several photos exist of this bus under previous owners at the Motor Coach Age website, some in color.
The powerpack has been completely rebuilt, with many new components. The flooring has been replaced, most interior side panels have been redone with new material, the six heater boxes are being rebuilt and re-installed. The lounge area in the rear of the coach is complete. The driver's area is nearly finished, as well as entrance steps, and modesty panel. All wiring has been re-worked, and all electric lighting components have been replaced and/or rebuilt. All original lighting options have been restored. Much glass has been replaced, including both front windshields. Additional work, too numerous to detail here, has also been completed. To reach this point in the restoration, material and labor costs have exceeded $60,000.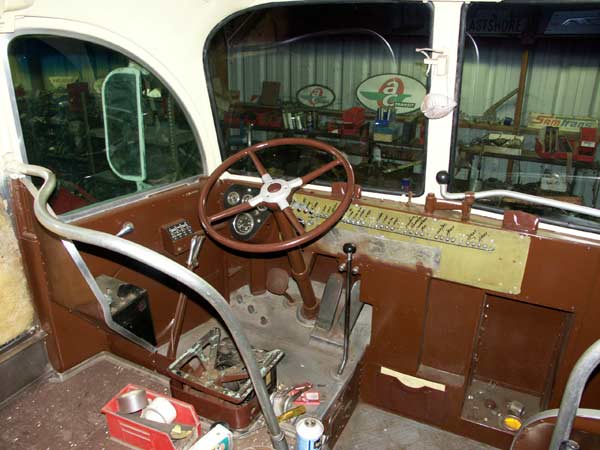 Nearly complete Driver's Area. The cover plate over the switch panel is temporarily removed in this photo.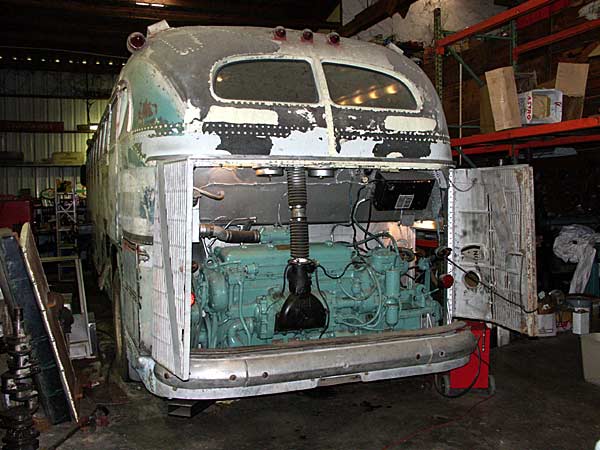 Here you can see the engine compartment, with its new powerplant. The electrical Junction Box in the upper right, has been completely re-wired.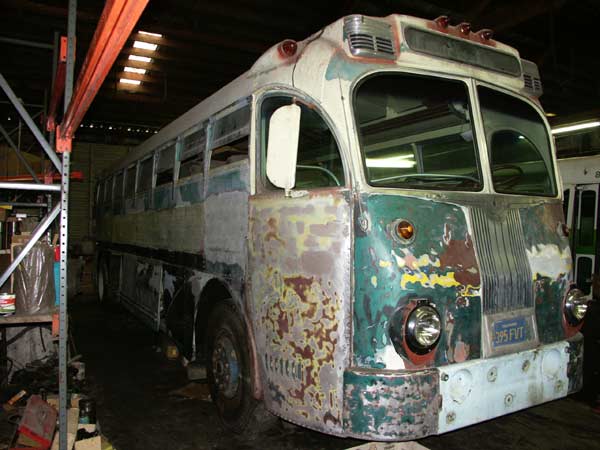 The exterior body has been throroughly worked over, and prepped for painting. Note the original marker light and air intake pieces, adjacent to the destination sign. All new front windshield glass is also evident in this photo.
Close inspection reveals quite a lot of work to the interior. The new flooring is installed, awaiting positioning and installation of the six heater boxes. The ceiling panels have been reworked. All lighting assemblies have been rebuilt. Note the overhead baggage area, and window frames have all been repaired and cleaned. That's the original material along the buffer panel of the overhead baggage area! All side panels on the passenger side (not visible) have been rebuilt with new material. The lounge area in the rear has new seating material. The blue nightlights, a trademark of this model coach, are also working.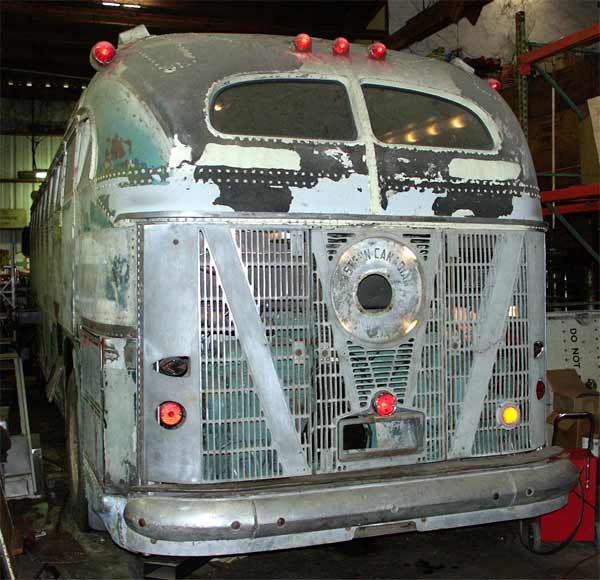 Here is the coach with all rear lighting in operation. Very shortly, Ted expects to move this coach from its current bay to a bay where it can be painted. Please check back for more photos of this coach when it's complete, and "On The Road again!"
Continue to Winter 2002 Update