Will Bus Update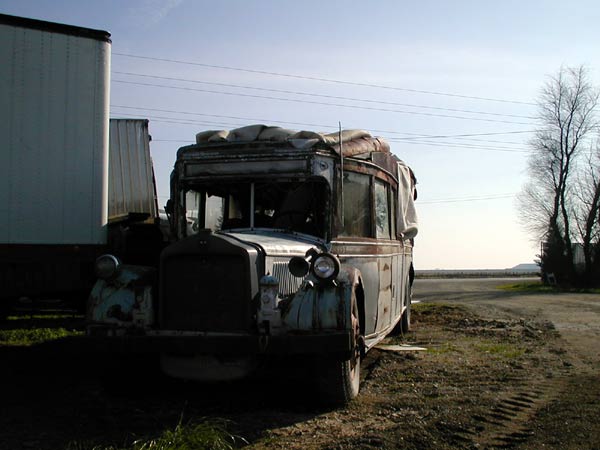 January 2002, #701 After Arrival in California
In 1988, your author found three Will buses in Grand Junction, Colorado. These coaches were in outside dead storage, along with a Yellow Coach, and one White bus.
In 1944 the Wills had been purchased from Greyhound in the northeastern US, and driven to Colorado and parked. They sat unused for over 58 years. While there is some evidence that either the Yellow Coach or the White had been driven circa 1970, the Wills sat untouched the entire period.
In 1992, plans began to acquire and move all three Wills to Northern California. However in 2001, a buyer acquired and moved one of the Wills to Southern California. No information has become available on the plans for this bus. In December 2001, the remaining two Wills were acquired, and moved to Williams, California.
58 Colorado winters have taken their toll on all of the buses, but the Wills have suffered the most. Being of wood, canvas (and metal over wood) construction, the canvas has rotted away, and the wood deteriorated badly. At one point #626 suffered a fire to its roof area, incinerating the roof and damaging most of the seats and many interior appointments. It will contribute its motive power to the other Will, #701, which is planned for restoration.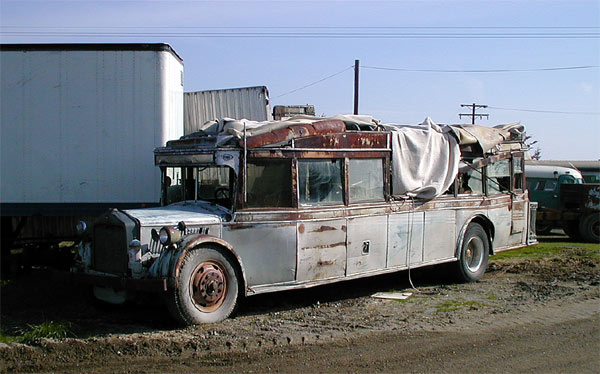 #701 Front and Side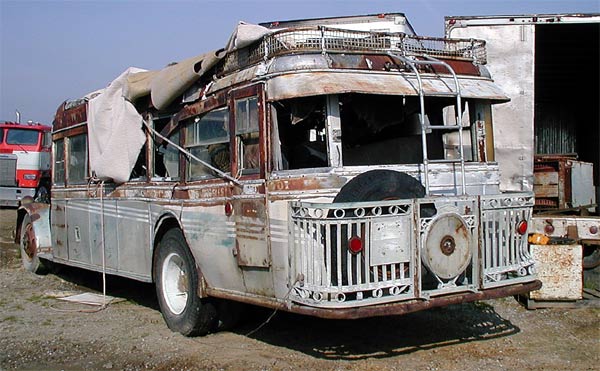 #701 Side and Rear
Sometime between 1992 and 2001, many of the unique marker lights and some interior light fixtures were "removed" from these buses. However, enough remains to afford castings for re-creations when the time comes. In addition, Ted Campbell's large inventory includes many body parts which were not unique to these buses, and will also be used in the restoration.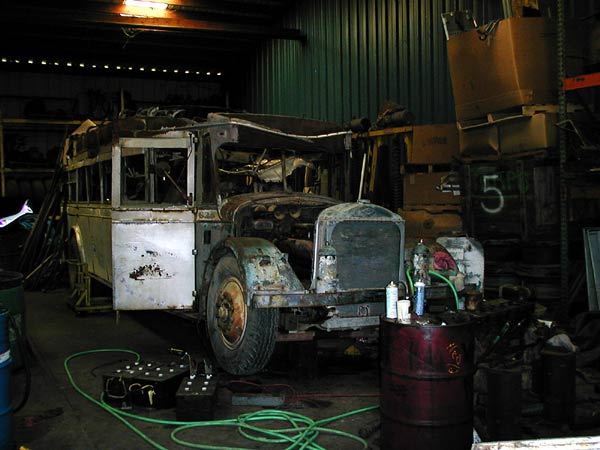 #626 In the Shop in Williams, CA
#626 suffered a fire in the roof, rendering it unfit for restoration. However it will contribute its motive power, and many other body parts to #701's eventual restoration.
#626 is a 249" wheelbase, either a GX or GY body (has parts from both styles), with a "WMC" radiator style. #701 is a 239" wheelbase, GN body, with a "Will" radiator style. These wheelbases were measured in Williams, CA. 626's 249" wheelbase is somewhat of a mystery, since GX and GY bodies were all thought to have 239" wheelbases.
After arrival in Williams, CA, Ted Campbell of Coach Maintenance, where 701 will be restored, determined that the motor in 626 was in the better shape of the two, and he commenced efforts to return life to an engine that had completely frozen in 58 years of disuse.
Following a multitude of applications of ATF and other fluids, unfreezing and removing the six spark plugs, determining there were no cracks in the block, and unfreezing all the valves one at a time, Ted was able to turn the engine ever so slightly by hand. Continuing night after night, progress was marked on the fan, showing that the flywheel was loosening up, 1 or 2 teeth with each effort. The 12 volt starter was removed checked, and re-installed in working order. On Christmas Eve 2001, after judicial priming, the engine coughed a couple of times before dying. A blockage in the exhaust pipe was removed. On the next try, the 1929 engine caught and ran unevenly for a few seconds before dying. After adjusting the timing, the engine successfully started again, and continued running. After about a minute or so, a water hose burst spectacularly, spewing steam and water everywhere, and the engine was shut down, and repairs made.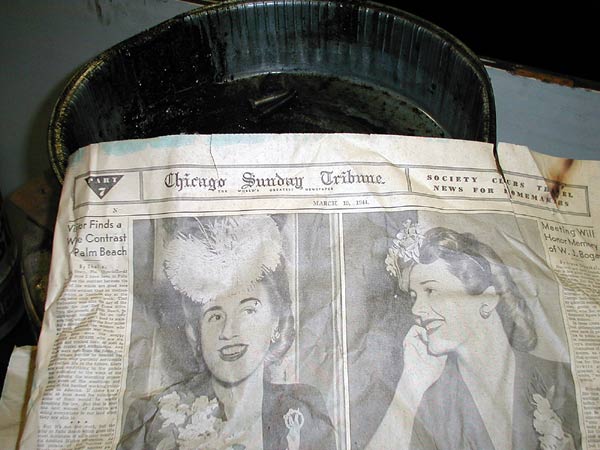 Found under a seat in #626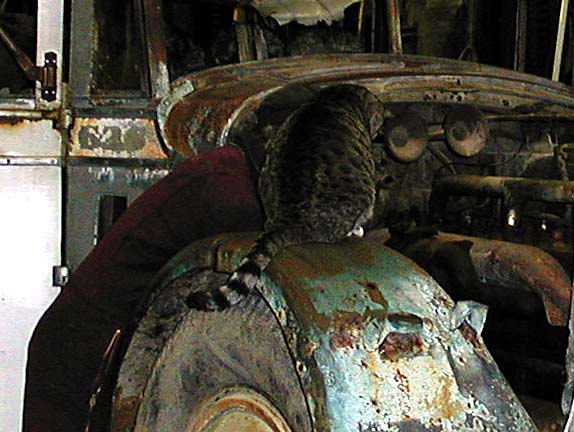 Ted Campbell's Boss Is Inspecting Ted's Work
On January 30, 2002, your author was present in Williams when Ted fired up 626. It started smoothly, and ran for several minutes until Ted shut it down. To be present, and hear this 73 year old engine come to life was to go back in time. Your author grew up when chain drive trucks were still on the streets. This motor, with its low "growl," spoke power -- a reminder that things were done by brute force in that era!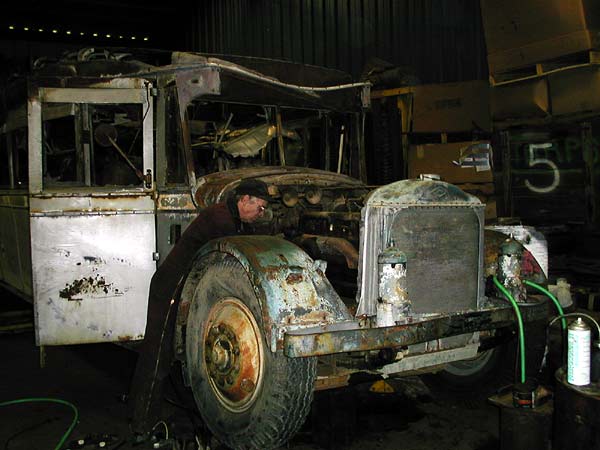 Ted is monitoring the gas feed and choke, while 626 runs once again
626's throttle linkage, choke, and some other minor items will be repaired to the point where it will move under its own power around the property. The air brakes are in working order. This will allow it to be moved to make way for 701. The 701 will be put inside the shop area in a position where it can remain for the lengthy time needed for its restoration, without blocking revenue work bays for Coach Maintenance. At this point 626 will say goodbye forever to its motor, and some accessories, which will go into 701.
SOUND RECORDING OF 626 MOVING UNDER ITS OWN POWER FOR THE FIRST TIME IN OVER 50 YEARS
Here the 626 starts up, and drives past our recorder, then backs up. Total playing time is 3 minutes, 25 seconds.
1 MB Flash File (Medium-to-Good Sound Quality With Lowest Compression Possible)
File updated 04/07/02. I've improved the volume and lowered the file size, at a slight reduction in quality; mostly higher frequencies.
Download time for 56K DialUp connection: Approx. 2:30 Best Guess)
Click Here to Play Flash Version
(When it's over, click your browser's BACK Button to return to this page.)
---
Restoration will take some time, and no timetable is available at this point. Newsworthy updates will be posted at this site (as well as at another web site, which will be linked here, when it becomes available).